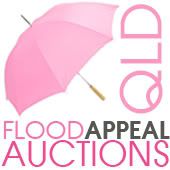 Well thankfully we were high and dry here in Upper Caboolture. Other parts of Caboolture weren't so lucky and were isolated. Some businesses were flooded in the lower lying areas. My husband had to spend a night at a friend's house as the train he was on was turned back with safety concerns over the bridges it had to cross. (I think runaway boats had hit the bridge).
My heart goes out to all the other people who lost loved ones and their homes. It has been like watching a horror movie roll out before our very eyes.
It has been heartwarming to hear of the wonderful people rallying to help those that have lost everything, so to do my little bit to raise some funds for the Premier's Appeal I have decided to auction off this sweet little elephant.
I have handmade her from mohair and I have used vintage fabric for paw pads and ears. I have grubbied her for a bit of an aged look, and she is a collectable item only and not a child's toy. Sitting she measures 18cm. She is five-way jointed and has a wobbly neck.
How my auction works:
1. Bidding will start at
$20 (Australian).
2. You can
place a bid
by leaving a comment on this blog post with your bid amount and email address. Please make sure that your bid is higher than the previous bidder.
3. Your bid must be in
whole dollar increments
.
4. This auction is
open to everyone
. Postage will be $5 for Australian residents and $10 for overseas buyers.
5. The auction begins
NOW
and will
END at 9am on Monday 24th January 2011
.
6. At the close of the auction, I will contact the winner (please make sure your bid comment includes your email address). The winner will pay the winning amount directly into the
Premier's Flood Relief Appeal
and send me proof of payment via email. Once proof of payment has been received, I will post your little elephant to you.
7. Thanks so much for taking part. Best of luck and happy bidding!